Founded in 1990, the Global Network of WHO Collaborating Centres (WHOCCs) for Nursing and Midwifery Development is an independent, international, non-profit, voluntary organization comprising the worldwide WHOCCs as its members. At its core, the membership includes internationally renowned nursing and midwifery leaders underlining the significance of this expert group.

Health for All Through Nursing and Midwifery Excellence

To maximize the contribution of nursing and midwifery in order to advance states, member Centres, NGOs, and others interested in promoting the health of populations.
The Network will carry out advocacy and evidence based policy activities within the framework of WHA and regional resolutions and the WHO Programs of Work.
The Global Network has an elected governing body consisting of a secretariat is elected from the member collaborating Centres for a period of four years and it functions as the coordinating body of the Network.

Current listing of Collaborating Centres for Nursing and Midwifery Development in the Global Network.
World map of WHO Collaborating Centres for Nursing and Midwifery Development.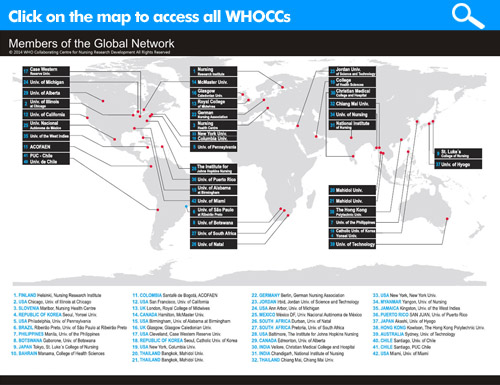 • Secretary-General: Isabel A.C. Mendes, University of São Paulo at Ribeirão Preto College of Nursing, Brazil (2008-2014)
Executive Coordinator, Carla A. A. Ventura, University of São Paulo at Ribeirão Preto College of Nursing, Brazil (2008-2014)
• AFRO: Busisiwe Bhengu, University of Kwa-Zulu Natal, South Africa (2008-2010)
AFRO: Marthie Bezuidenhout, University of South Africa (UNISA), South Africa (2011-2013)
AFRO: Mary Moleki, University of South Africa (UNISA), South Africa (2013-2014)
• AMRO: Judy Mill, University of Alberta Faculty of Nursing, Canada (2007-2009)
AMRO: Lynda Wilson, University of Alabama, USA (2010-2012)
AMRO: Paz Soto, Pontificia Universidad Católica de Chile, Chile (2012-2014)
• EMRO: Fatima Jamali, College of Health Sciences, Ministry of Health, Kingdom of Bahrain (2008 - 2014)
• EURO: Valerie Fleming, Glasgow Caledonian University, Scotland (2008-2010)
EURO: Frances Day-Stirk, Royal College of Midwives, United Kingdom (2011-2012)
EURO: Frank Crossan, Glasgow Caledonian University, Scotland (2012-2014)
• SEARO: Indarjit Walia, Post Graduate Institute of Medical Education & Research (PGIMER), India (2007-2009)
SEARO: Jariya Wittayasooporn, Ramathibodi Hospital, Thailand (2011-2014)
• WPRO: Il Yong Yoo, University of the Philippines (2008-2010)
WPRO: Regina Lee, Hong Kong Polytechnic University, Hong Kong, (2010-2014)

2008-2010 - WHO Chief Scientist for Nursing and Midwifery: Dr. Jean Yan
2010 - Coordinator - Health Professions, Nursing and Midwifery: Dr. Eric Chan
2011 - Coordinator - Health Professions, Nursing and Midwifery: Dr. Annette Mwansa Nkowane

2008-2014
Institution: University of São Paulo at Ribeirão Preto, College of Nursing, Brazil
Secretary-General: Dr. Isabel Amélia Costa Mendes
2004-2008
Institution: Glasgow Caledonian University, School of Nursing, Scotland
Secretary-General: Dr. Barbara Parfitt and Dr. Valerie Fleming
2000-2004
Institution: George Mason University, School of Nursing, USA
Secretary-General: Dr. Rita M Carty
1998-2000
Institution: The University of Manchester, School of Nursing, Midwifery and Social Work, UK
Secretary-General: Dr.Tony Butterworth
1994-1998
Institution: Yonsei University, College of Nursing, Republic of Korea
Secretary-General: Dr. Mo Im Kim
1988-1994
Institution: University of Illinois at Chicago, College of Nursing, USA
Secretary-General: Dr. Mi Ja Kim